Yeeeeah so I liked Back to the Future (Part I) so much that I watched Part II back to back with it. Sequels in general have a reputation of not being quite up to the same standard as the original, and although many people still love this second instalment, I'd say that this is no exception. Think "good, but not great". For me though, I still kind of loved it!
Back to the Future Part II differs from its predecessor in that there's some future time travel too, instead of just going back in time once again. (Although there's a little bit of that too.) In this one, Doc and Marty travel to the year 2015 in an attempt to stop a specific event happening involving Marty's future son. It was really funny to see what Robert Zemeckis and the writers thought 2015 would be like back in 1989, in all honesty. Anyway, things go sideways when school bully Biff gives his past self a sports almanac with every sporting result in it from 1985 to 2000, which promises to make him rich if he places the right bets at the right time. When Marty sees what the future is like with Biff as a rich and powerful mogul, it rests on his shoulders to stop that from happening too.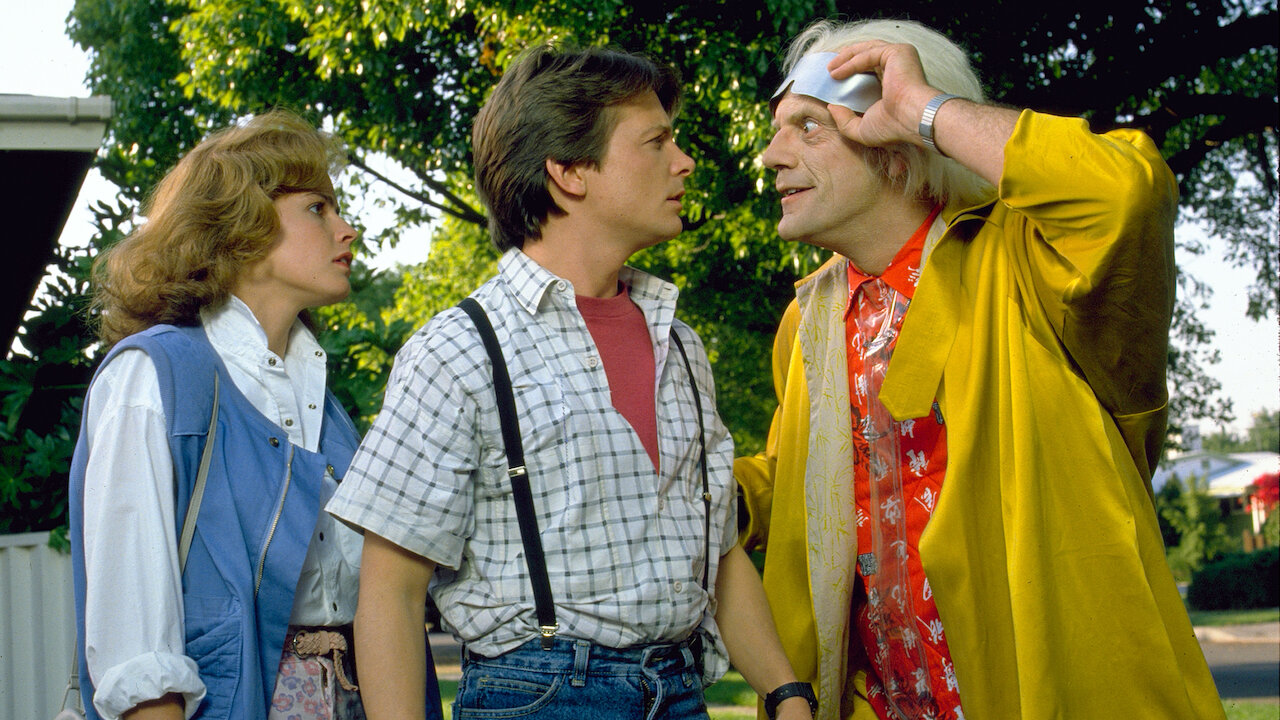 I have to say it again: man, it is so CUTE that they thought that's what 2015 would be like. Flying cars? No. But I guess they got voice control and video calling right?
It also bears repeating that i's pretty common knowledge that Part II isn't quite as fondly remembered as the previous film, but that's not to say it doesn't have its charms. Everything is a little bit corny and some of the make up is highly questionable, but this one is much funnier than the first if you ask me. Zemeckis definitely plays around more with humour and just generally having a good time with Part II and it's really successful in that regard for the most part.
For variation purposes, it was definitely a smart move to set some of this one in the future instead of just going back in time again. The plot gets going much quicker and is mostly entertaining, but it does suffer from some of the pacing issues that the first movie did. Including extra Doc Brown is not to be sneered at though – I felt that the first film didn't feature him heavily enough and he gets quite a lot more screen time in this effort.
What could have been really confusing with multiple time changes was actually made extremely easy to follow by a cleverly penned script. I'm not entirely sure why this one isn't as much loved, but maybe because I'm a nerd for sports I kind of liked this storyline just as much due to the almanac plot lines 🤓
Not only is the story an interesting one, but the technical side of the movie shines too. The score and the popular music absolutely slap in this sequel all thanks to the brilliant Alan Silvestri (Avengers: Endgame, Practical Magic, Night at the Museum.) Whilst it's not quite as tightly-knit as its older brother, there still so much fun to be had.
As far as sequels go, this is one of the better examples without a doubt.
Back to the Future Part II is available to stream on Sky Cinema and Now TV in the UK.
TQR Category Ratings:
Performance: 

Cinematography: 

Soundtrack: 

Costume & Set Design: 

Plot: 

Overall Rating: