If you know me at all, it's no secret that I'm obsessed with sports. Obsessed. I'll watch any old shit, from tennis to baseball, from ice hockey to darts, I'll watch it. So please forgive me whilst I indulge in a good old sports documentary that looks at a period of time in the history of possibly my favourite sport of all: American football.
Four Falls of Buffalo tells the story of just that: the story of the early-nineties Buffalo Bills, who reached the Super Bowl four years in a row… and lost all four times. If you know nothing about the NFL, you probably won't know how difficult it is to reach a Super Bowl at all, never mind reach it four years in a row. In fact, the Bills are the only team in the league to have ever done that, but the fact that they didn't lift a single Lombardi trophy is phenomenally bad luck. The documentary takes us on a journey of what happened, the theories behind why they were never successful, and how these losses affected their core team members before, during and after each game.
As a New York Giants fan, there's nothing better than seeing Lawrence Taylor and Bill Belichick take down these Buffalo Bills. Except maybe beating Tom Brady and the New England Patriots in two Super Bowls. But you know what? This documentary led me to respect the Bills franchise and their fans to no end. And shout out to Whitney Houston for doing that. (Look up her national anthem performance if you've never seen it before. You'll get pure chills, I promise.)
Mark Kermode always says that the best documentaries are able to interest and entertain audiences who had no prior knowledge of the subject matter beforehand. I agree with that mantra, but I'll admit that this is not one of those documentaries. This is a football lover's documentary through and through, so if you're not a fan of the NFL, you'll most likely be bored. Luckily for me, I'm in love with it.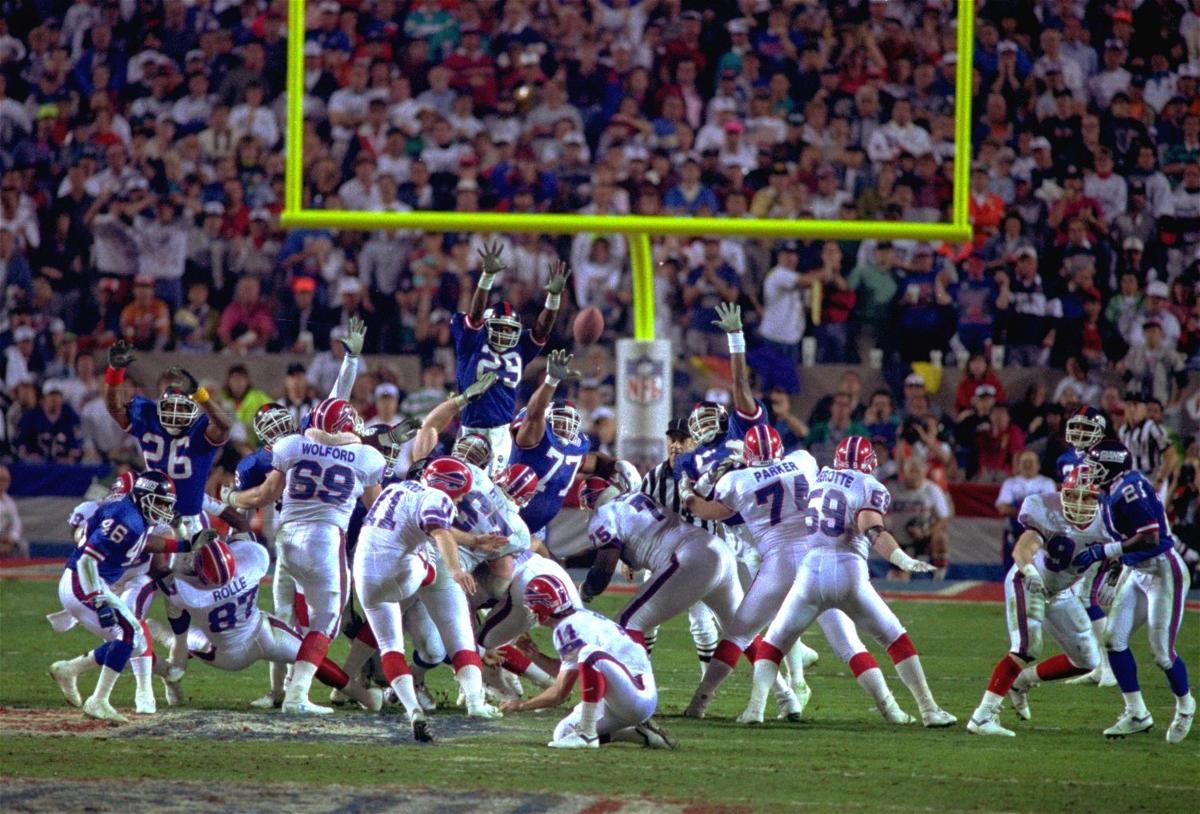 A tough watch at times, what the film does best is take you on a roller coaster of emotions. Even if you're not a Bills fanatic, the feelings portrayed here are relatable to anyone who's ever cared about any sports team on the planet. Again though, it won't do much to win over those of the "it's just a game" mindset, because this is a documentary made purely for ESPN films – they know their audience already loves football, so they won't do anything to try and persuade newcomers to come over to the sport.
Look, there's nothing new here. It's a bunch of archive footage (from on and off the field), old news snippets, interviews with players and coaches… it's the same old stuff. What it is, however, is brilliantly informative and an interesting, complete re-telling of a story made specifically for football die-hards. 
Four Falls of Buffalo suffers from some pacing issues and is a little long-winded in places, but for the most part, it's an inspiring, gripping documentary despite its limited appeal.
Four Falls of Buffalo is available to stream on Disney+ in the UK.
TQR Category Ratings:
Performance: n/a
Cinematography: 

Soundtrack: 

Costume & Set Design: n/a
Plot: 

Overall Rating: 
½