Happy Halloween! On the day itself, it's only fair that I review a spooky film. Although What Lies Beneath isn't exactly out-and-out horror per se, there are definitely some horror thriller elements within it. Regardless of whether this is or isn't a horror film, I'm still going to extend my run of horror films here at The Quayside Review because – like I've already said in previous reviews – I didn't watch nearly enough this year.
What Lies Beneath is 21 years old now, and I'll admit that it is starting to look its age. The film starts with a seemingly happy couple (Michelle Pfeiffer and Harrison Ford) living next door to a seemingly unhappy couple. When Pfeiffer's Claire begins to hear ghostly voices and see spine-chilling images however, things take a turn. Her husband quite quickly sends her to a shrink, re-assuring her that it's all in her head. Claire starts to suspect that there's more to it though and she gets caught up in a mystery that she wasn't expecting.
I'm not going to beat around the bush with this one. Were it not for some big name actors and a superstar director, this would have been a straight-to-video movie and you know it. 
In the beginning, What Lies Beneath lays down some scene-setting atmospherical groundwork that – whilst impressively done – is way longer than it needs to be. Though Michelle Pfeiffer does her level best to keep it interesting, the slow burn element doesn't wholly pay off in the end. 
What this movie has is all the hallmarks of a great horror thriller: a screeching score, a spooky haunted house and some really good performances especially from Pfeiffer and Ford. Sadly, I can't help but feel like director Robert Zemeckis and screenplay writer Clark Gregg (yes, that Clark Gregg) tried to cram so much into it that it never quite achieves what it sets out to do and just becomes a bit of an incoherent, lengthy ramble.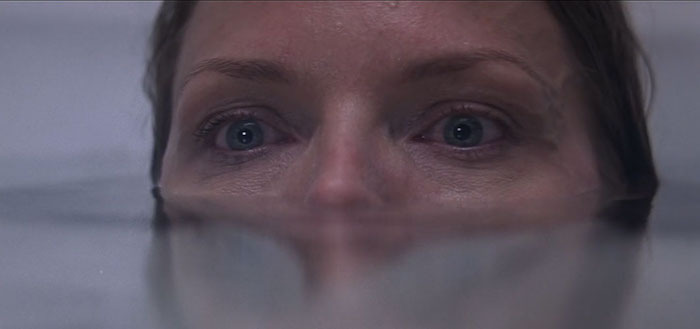 There are things to like here, don't get me wrong. What I liked most about the plot were the psychological mystery elements. Is she really crazy? Or is this house actually haunted? Once that part is over though, it's kind of difficult to stay interested. Whilst the story is quite interesting here and there and had so much potential, it just feels like a lot of that potential was wasted. In the end, the whole plot is just too messy and long-winded for it to be really memorable, although the eventual plot twist is decent enough… Even if it's not exactly the most mind-blowing movie plot twist you'll ever lay eyes on.
Technically, What Lies Beneath boasts some interesting camerawork and stylish cinematography. When it comes down to it however, its stupidly long runtime and chaotic plotting make it distinctly average on the whole.
What Lies Beneath is available to stream on Disney+ in the UK.
TQR Category Ratings:
Performance: 

Cinematography: 

Soundtrack: 

Costume & Set Design: 

Plot: 

Overall Enjoyability Rating: