Know what's weird? I love Rent and Jonathan Larson's legacy. I love Hamilton and Lin-Manuel Miranda's overwhelming talent. But I did not expect for one second to love tick, tick…BOOM! so much. It makes no sense. I adore musicals, I adore the people involved with this movie. And yet, somehow, it was a huge surprise to me that this movie satisfied my senses with such aplomb. The best thing is, others seem to have really enjoyed it too.
tick, tick…BOOM!'s screenplay was written by Steven Levenson (Dear Evan Hansen, Fosse/Verdon) and is based on Larson's stage musical of the same name. Not only that, but its story is based on true events from Larson's life, so the movie acts as a mini-biographical snapshot of his life too. Portrayed by Andrew Garfield, Larson paints himself as a struggling artist and musician who is doing everything he can to make it big in New York City. The film details Jonathan's relationships, friendships, and what it was like for him before he hit the big time off-Broadway with Rent. Of course, there are a bunch of musical numbers thrown in there too, and guess what? They'll be stuck in your head for days afterwards.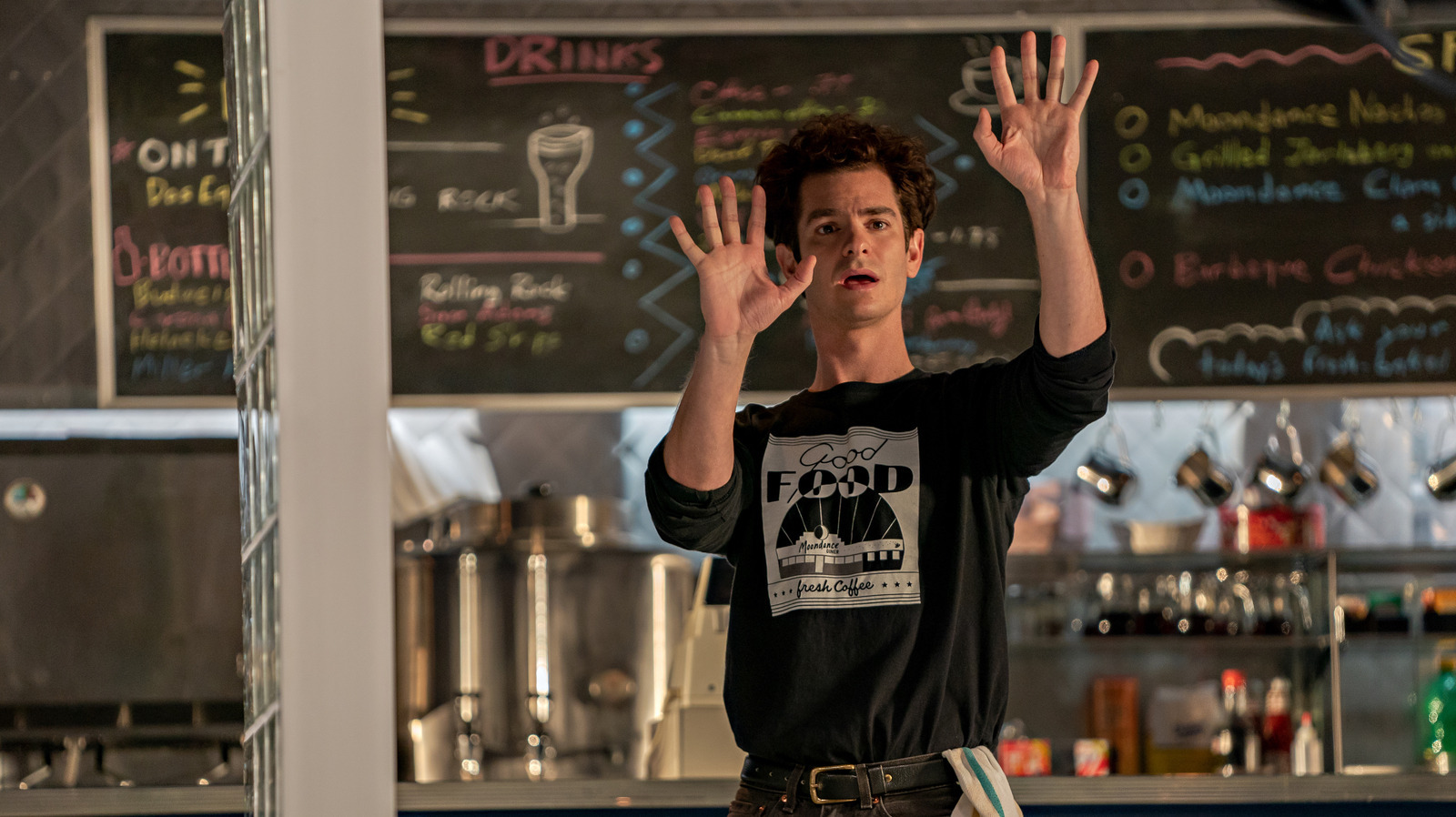 Speaking of songs that will get stuck in your head, the musical number titled Sunday brought me more joy than I even needed on a Monday morning. Thank you, Lin. (I won't spoil it for anybody here, but if you're even the slightest bit of a musical theatre nerd, you'll be jumping for joy throughout this sequence.)
This leads me into a nice segue, actually. Maybe you have to be a musical theatre head to really love this. Or maybe you have to at least have some interest in Jonathan Larson and his colourful, wonderful life. For me, tick, tick…BOOM! was utterly gripping. I couldn't take my eyes off it. It's not that the story is full of thrills and excitement or special effects and stunts, but it's soulfully told and is filled with an authenticism that is hard to find in film musicals. Just brilliantly made, if you ask me.
There are unsurprisingly a lot of Rent vibes here; video clips recorded on handheld cameras, the rock opera elements to the songs, and several of the themes match up uncannily. Though I can't go as far as saying that the musical numbers themselves are quite as memorable as those from Rent, there are several standouts amongst them, particularly Therapy, which was super fun to hear and see performed, despite having more sinister undertone in its meaning.
Now, I've seen some criticism about the film's director, but I must applaud Lin-Manuel Miranda's direction here; it's a solid directorial debut that has his energy and heart flowing consistently throughout. Some have said that this movie carries no 'weight' and that they're not fans of Lin's storytelling, but it could not have been more opposite for me. You can tell how much this means to him even though you only see him for five seconds in his cameo as a grill cook. Andrew Garfield is also wonderful, embodying Larson's erratic and intense nature perfectly, and Alexandra Shipp impresses with perhaps her best performance on film so far. (I even approved of Vanessa Hudgens' performance, which is a big deal for me.)
It's not completely perfect and it won't be for everyone, but this movie was an exceptional way to start the week. And now I have a strong urge to watch Rent immediately.
tick, tick…BOOM! is available to stream on Netflix in the UK.
TQR Category Ratings:
Performance:

Cinematography:

Soundtrack:

Costume & Set Design:

Plot:

Overall Enjoyability Rating:
½