There's really no greater satisfaction than ticking a movie off your watchlist that's been there for years, is there? Maybe I'm just easily pleased, but I honestly love it. Surely I can't be the only one… What I'm trying to get at is the fact that Kramer vs. Kramer has been on my 'to watch' agenda since before I started this blog. It's one of those films that kept passing me by, and then they took it off free streaming services and – me being a cheapskate and all – I never got round to actually watching it.
Most people will already know what the gist of this movie is, even if they haven't seen it. I mean, the title is quite telling really, but let's have a quick run down of the plot. In short, Ted Kramer (played by Dustin Hoffman) and Joanna Kramer (the inimitable Meryl Streep) are a seemingly happy couple to anyone on the outside. They have one son (Justin Henry) and Ted has quite a high-flying job, but one day, Joanna decides that she's had enough and leaves to 'find herself', so to speak. After some time has passed and Ted has begun to really bond with his son, Joanna realises that she misses the child more than she thought possible and decides to take legal action.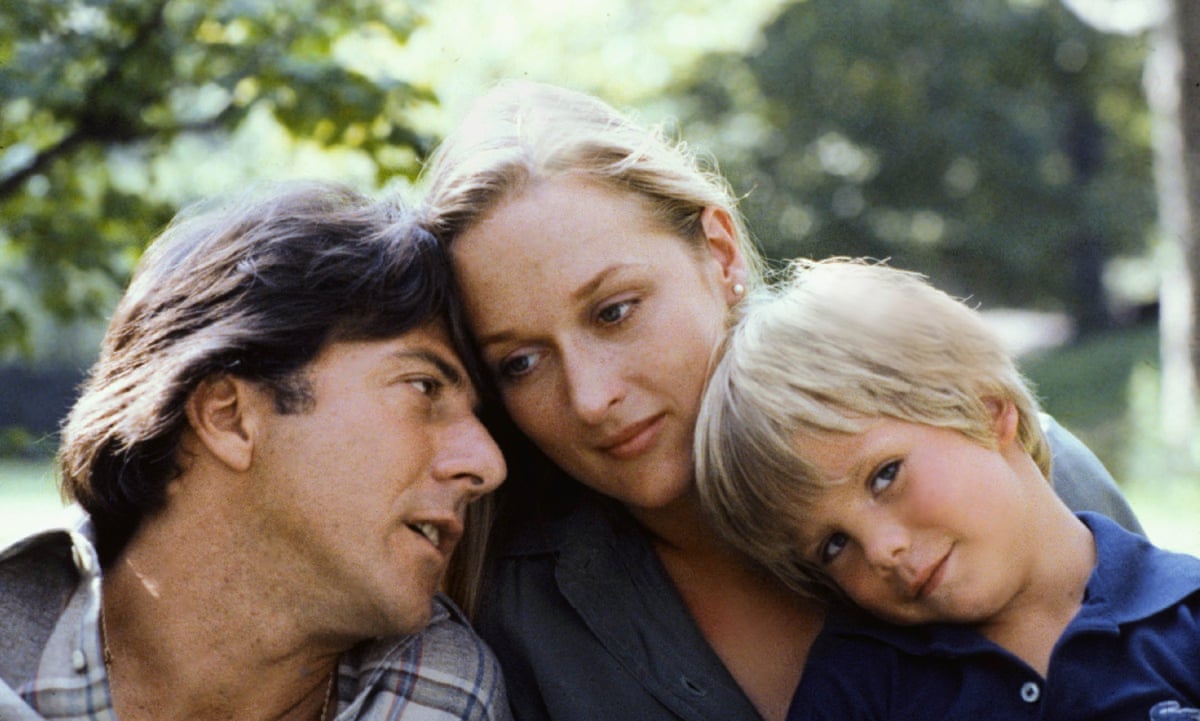 Interestingly, Kramer vs. Kramer often comes off like a cinematic adaptation of a stage play, so I was definitely quite surprised to read that it was adapted from a novel. However, I quite liked that about it. It's very theatrical in the way the script is written and the realism on display is so masterfully achieved. I felt almost as if I was watching the story play out exactly as it would in real life; nothing felt forced or unrealistic, and everything was organic and true to life. 
Though it's quite well documented that Dustin Hoffman's behaviour on the set of this film was often unsavoury and untoward, you can't deny that his performance was absolutely worthy of the Academy Award he went on to win. Do I think Al Pacino (who reportedly turned the role down) could have done just as good a job? Yes. But there are very few others who could have acted with such subtlety and awareness as Hoffman does here. And little Justin Henry? Perhaps the best performance I've seen from a child actor in the last few years. 
Of course there is some deep social commentary at work here that often feels like a mega punch to the gut, but there are some heart-warming moments within it too. The minute details are what makes this movie so great though, and I especially loved the soundtrack, which consisted mostly of orchestral strings and dramatic percussion (chiefly the piano). Perfectly placed and always appropriate music can often be the backbone of a movie, and this is certainly an example of that. And the use of silence alongside that? Magnificent. 
By the time it got to the courtroom sequence, I was way too invested in this group of characters that I knew very little about. This movie is probably the one that holds the honour of catapulting Meryl Streep to prominence and it's extremely clear why that is. Despite it not always being a thrill ride, it's a near-perfect movie that is bolstered exponentially by the performances within it.
Is it clear to see why this is considered a classic? Absolutely.
Kramer vs. Kramer is available to stream on Sky Cinema and Now TV in the UK.
TQR Category Ratings:
Performance: 

Cinematography: 

Soundtrack: 

Costume & Set Design: 

Plot: 

Overall Enjoyability Rating: 
½