Blimey. I was speechless by the end of this one. It's actually quite surprising that the title of this movie is JFK, since it all takes place after he was assassinated, but I guess naming it 'Garrison' wouldn't have drawn in audiences quite so well. Due to the fact that I was yet to see a new movie in February before this (yes, I watched Encanto again instead), I thought it only fitting to watch a movie with a gargantuan runtime to make up for lost time.
JFK tells not the story of the man, but the man who investigated the murder of the man. Kevin Costner plays Jim Garrison, the real-life district attorney of New Orleans at the time of Kennedy's death. Garrison has his suspicions that the 'official' story that Lee Harvey Oswald acted alone and killed the president are untruthful, and begins to look into what might have really happened. However, when Oswald himself is assassinated, he drops the case. A few years on, Garrison finds new evidence of a conspiracy to remove the president from office, and reopens the case once again, much to the despair of his wife (Sissy Spacek).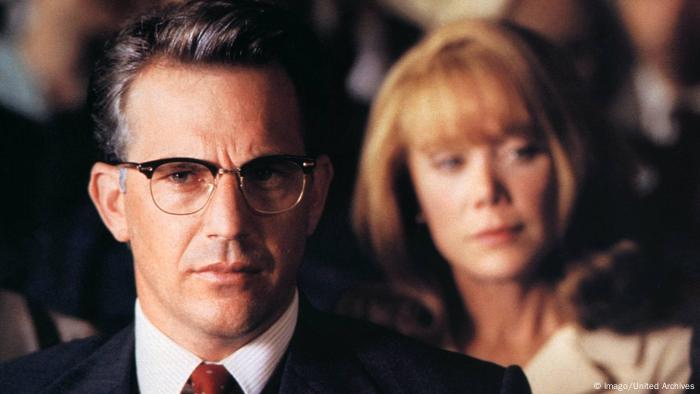 Kevin Costner might be the coolest white man on Earth and I don't know how he does it. What better to do on a rainy Sunday than spend 3+ hours with him? And yes, I watched the Director's Cut, so prepare for this review to be lengthy. (Or, much lengthier than my usual, more concise reviews.)
Where do you even begin with something so dense and weighty? I guess I'll start with the fact that a lot of people criticised JFK in 1991 due to the way it bends the facts and shapes so-called "evidence" to create a conspiracy theory. To that, I say that I just don't care. This isn't a history textbook, it's a God damn movie, despite the director being adamant that it is rooted in truth. Oliver Stone also maintains that its length is completely necessary. I don't quite agree with that (didn't need so much of Garrison's family life, for example) but I'll admit that I wasn't bored for even a second, so he must have done something right. If you take some aspects of JFK with a pinch of salt, I'd say there's a strong chance you'll enjoy it as much as I did.
On the flip side, there are times in which the script feels too manufactured in its phrasing – some of it is quite unrealistic and the dialogue especially sounds like something real people would never say out loud; it's almost as if you can feel the lines being read from the page. But for the most part, the actors do their level best with what they have. The narrative is very well-constructed though, and the story boarding is complex and impeccably crafted with its use of flashbacks and visual aids. 
This film boasts an ensemble cast of perhaps some of the most brilliant actors of our time. Jack Lemmon, Joe Pesci and Tommy Lee Jones happen to be three of my favourite actors, so it was an absolute delight for me to see their flawless performances here, specifically since I had no idea who made up the cast other than Costner himself. Gary Oldman is also fantastic and it feels like no one talks about what he achieved here enough. Of course, Costner is the backbone of this movie, but I have to praise Laurie Metcalf and Sissy Spacek as basically the only two women in an epic full of dudes talking. Each of them holds their own, and Metcalf is especially impressive in her descriptive monologues. I'd love to see more of her work after this.
As a piece of filmmaking, it's hard to believe that JFK is over thirty years old: Stone's camerawork and framing makes the film still look as if it was made just yesterday. The lighting, colouring and set design is apt and specific, and I have to say that whilst this may not be composer John Williams' most memorable work, this score might be one of his best. A symphony of deep drums and brass orchestral pieces heighten the intensity and boost the impact of some really dramatic sequences – this may be what really kept me consistently invested, in all honesty. 
As someone with a degree in American politics, you may suspect that I'm a little biased in regards to this film. I put off watching it for so long because of its length, but I'm glad I finally set aside some time to watch it. It's not a perfect movie, but it really is remarkable in many respects. If you have any interest in the topic whatsoever, I'd recommend diving right in.
JFK is available to stream on Amazon Prime Video in the UK.
TQR Category Ratings:
Performance: 

Cinematography: 

Soundtrack: 

Costume & Set Design: 

Plot: 

Overall Enjoyability Rating: 
½