Did I expect The Mitchells vs the Machines to be the best movie of the year so far? Not at all. But listen to me when I say: this is the best movie of the year so far. Not the best animated movie of the year, but the best movie. Full stop. End of sentence. And it's not hyperbole.
The Mitchells vs the Machines comes from Sony Pictures and was supposed to be a cinema release but… well, you know why that never happened. Anyway, Netflix stepped in and now you can see it there. It comes from Lord Miller Productions; the studio that also brought us other unique, fabulous animated films such as The Lego Movie and the exceptional Spider-Man: Into the Spider-Verse, so it should have been expected that they were going to hit this one out of the ballpark too.
The plot? A young girl who aspires to be a filmmaker has just got into film school. However, her father has the sinking feeling that their bond has been lost over the years, so he cancels her flight and suggests they go on a family road trip to get her there instead. Sounds simple, but what they don't expect is for a robot/technology apocalypse to rear its head and they suddenly become the planet's only hope at survival.
Is this officially the best Netflix movie of all time? The Irishman? I don't know her. 
Obviously, the animation is first and foremost the most impressive thing about this movie. It's a crazy blend of 2D and 3D animation, stop motion style animation, hand drawn imagery, computer generated imagery… It's so unique and simply wonderful to watch. Many have compared this to Into the Spider-Verse and I can see why. Yes, it has similarities, but it's still totally different, and again, more proof that Lord Miller Productions is the new, cool kid on the block.
The cast! Are! Perfect! Abbi Jacobson plays the main role well despite being 37 years old in real life, and Linda Mitchell a.k.a. the MVP (Maya Rudolph) is 10/10 as always. My personal favourite though? Olivia Colman, who should be mandatory on every voice cast ever from now on, because she manages to be delightfully funny even when her character is a literal robotic voice whose only human form is a smiley face on a phone screen. I guess you have to see it to understand.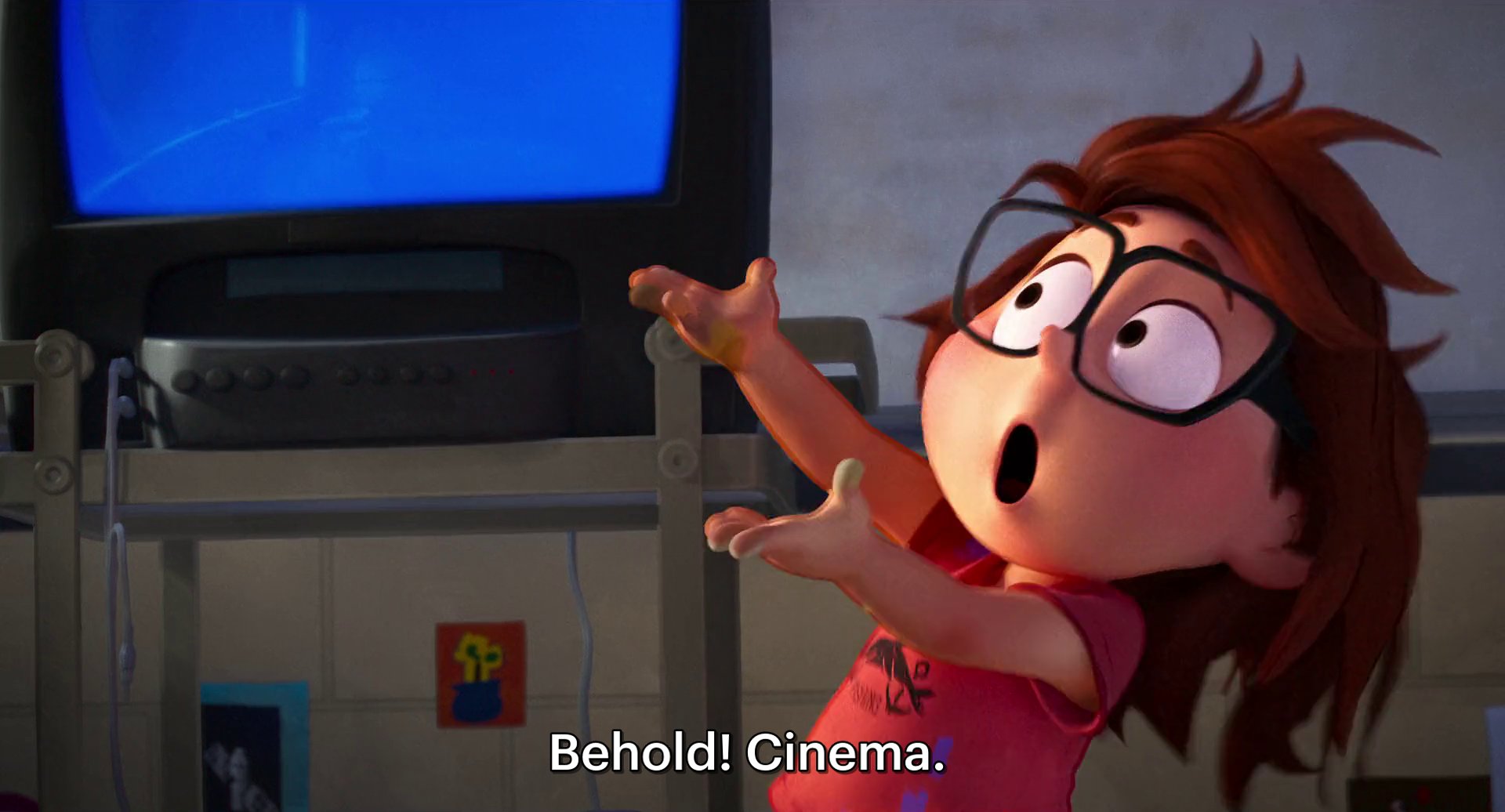 Whilst the story is undoubtedly insane, unbelievable and utterly bonkers, it's just so much FUN! The scene with the furbies?! Comedy GOLD. In fact, so many of the jokes were laugh out loud funny, but the message at the heart of it all stems from never forgetting your roots and always being appreciative of your family, regardless of their faults. It'll tug at your heart strings – I for one miss my Mum and Dad even more after watching it ❤️
It's really quite annoying that Disney and Pixar basically have the mandate on animated movies, because this deserves all the attention and I'm worried it won't get enough. (Please note that I wrote my notes before realising how much love it would get, and I'm happy to report that people are loving it as much as I did.) Either way, I'm thankful that it exists. My only complaint is that I wish it was slightly shorter, and even then the pacing is pretty good regardless.
What I'm saying is: Behold! Cinema!
The Mitchells vs the Machines is available to stream on Netflix in the UK.
TQR Category Ratings:
Performance: 

Cinematography: 

Soundtrack: 

Costume & Set Design: 

Plot: 

Overall Rating: 
½