In an attempt to cleanse my palate of the steaming pile of shit that was DC's Suicide Squad, I went back to old faithful: Marvel. Part of the X-Men franchise technically, Deadpool 2 is a sequel that is refreshingly fantastic.
The plot itself is pretty standard. Something happens very early on to piss Wade Wilson (a.k.a. Deadpool, a.k.a. Ryan Reynolds) off, and he sets out to get revenge. Along the way, he makes a few friends including Domino (Zazie Beetz) who help him in his struggle. What he never expects is to meet a struggling mutant played by Julian Dennison, who is at that precious point in life in which you decide whether to become a superhero or a supervillain. Realising it is up to him to save the kid, Deadpool sets out to do some good.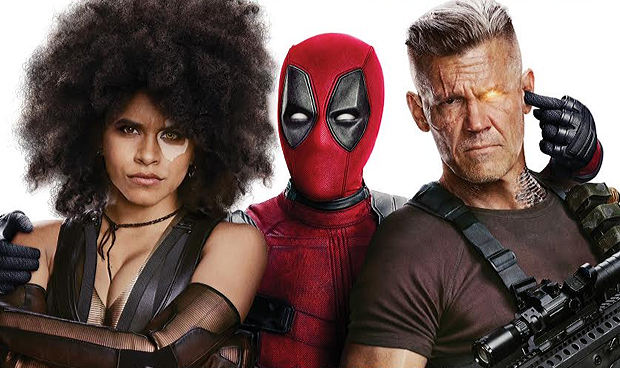 In the opening 10 minutes, Wade makes a sly joke about Batman v Superman: Dawn of Justice. And just like that, I was on board!
First, a disclaimer: I saw the first Deadpool movie whilst super jet lagged after landing in Toronto, so I really don't remember much about it. I definitely didn't remember it being so funny, despite it being described as a sort of comedy superhero film. What I'm getting at is, I have to credit the writers for the humour in this one – the jokes are so meta and truly really funny, even if the actual plot is pretty average in general. 
I'd usually find Ryan Reynolds unbearably annoying, but he's so perfect as Deadpool that I can't help but applaud him. Julian Dennison (The Hunt for the Wilderpeople) deserves the world. The cameos are brilliant too and add excellent comedy value, but the best of the best award falls to Zazie Beetz, who is a delight and I hope she's in every movie ever made starting…………. now. 
Technically, the fight choreography is excellent, fun, and the use of slow motion sequences and popular music to enhance the humour is perhaps the best thing about the movie. I only wish that the basic story was more interesting, as it really drags in the middle and the Cable character isn't as exciting as he needed to be. (But it is really fun that they addressed the fact that Josh Brolin also played MCU supervillain Thanos, making his place in this universe a little confusing.)
I probably won't ever think about it again, but the script really is super funny so I had a great time for the most part. If it was a little bit shorter it would be a better movie overall, but that can be said for most feature films if I'm really honest.
All the movie references were especially welcome and I'm more excited about Deadpool 3 than any other future X-Men movie. And I mean that.
Deadpool 2 is available to stream on Disney+ in the UK.
TQR Category Ratings:
Performance: 

Cinematography: 

Soundtrack: 

Costume & Set Design: 

Plot: 

Overall Rating: