Like so many other fans of Studio Ghibli, I was disheartened and upset to hear that their latest movie, Earwig and the Witch, had been almost universally panned by critics. Audiences simply detested the fact that the animation giant had switched to 'lifeless' 3D and found the story completely dull and uninspired. With this in mind, I made a brief switch to another, smaller production company known as Studio Ponoc, who seem to have stuck to the more traditional style of Japanese animation.
Founded by former lead film producer at Ghibli, Yoshiaki Nishimura (Howl's Moving Castle, The Tale of Princess Kaguya), Studio Ponoc have only produced two feature films to date, with Mary and the Witch's Flower being the first in their arsenal. The film focuses on Mary, who lives in the countryside with het great-aunt. One afternoon, she follows the neighbours' cat into the woods where she stumbles upon a mystical-looking flower. Mary goes on to discover that the plant she has plucked from the ground is known as a 'fly-by-night' and is not as normal as she first thought.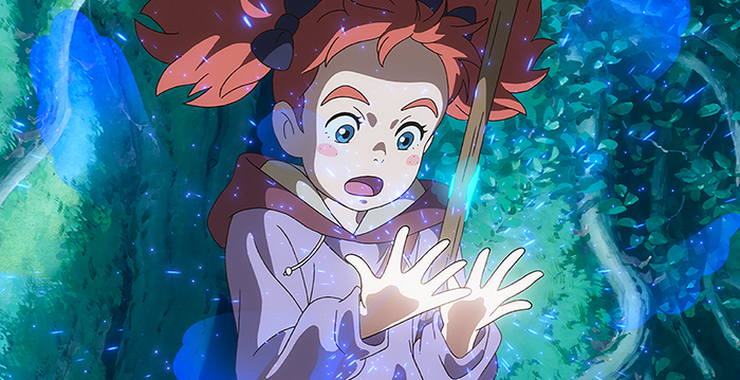 Firstly, forget Mary. Weird to say, maybe, since the film is named after her. But listen, Great Aunt Charlotte is the real MVP. I'll say no more, but keep that in mind if you so choose to give this a go.
The animation here is strong enough to rival any Studio Ghibli film. Specifically, the hand drawn scenery is just exquisite, but the characters and the way their movements are animated are equally as brilliant. Like Ghibli, Studio Ponoc succeed in creating a real sense of magic in their artwork, which is just as well since this is a movie about witches. At one point, I had to pause the film on an up-close shot of some leaves and grass, because I was astounded by the fact that it was not a photograph. That's how realistic and beautiful this film often is to look at.
Perhaps what stood out most to me here (other than the obvious visual feast) was how great the score was. Unlike other similar animated films, I found the music to be exceptional in how fantastical and appropriate it was. It certainly stood out as one of the most successful elements in this film and to a higher extent than other soundtracks within this genre do. 
As for the story… yes, it's a little simplistic. Relatively little happens in all honesty and it did feel like the plot was stretched a little thin in order to cover its 103 minute runtime. (I stand by my statement that it could have easily been 15 minutes shorter and still have made sense.) However, it's not without its charms; there's some authentic originality to the magical elements, even if some parts (familiars, broomsticks etc) are borrowed from standard witchlore. 
Unfortunately, the story being a little basic and rudimentary does let the film down as a whole. Despite that, the artistry of the visuals and the fantastical score mean it's impossible for me to rate Mary and the Witch's Flower any lower than a 3.5 because both of these elements are truly wonderful.
Even if you're a Studio Ghibli die hard, this is worth your time.
Mary and the Witch's Flower is available to stream on All4 in the UK.
TQR Category Ratings:
Performance: 

Cinematography: 

Soundtrack: 

Costume & Set Design: 

Plot: 

Overall Rating: 
½