Love him or loathe him, Tim Burton is a fantastic storyteller. Without his penmanship, we would never have had Edwards Scissorhands. Without his directorial prowess, we would never have had Beetlejuice. Or the best pre-Nolan Batman movie (in my opinion), Batman Returns. Sure, he's had some films that have split opinion, namely Planet of the Apes (which I quite unpopularly enjoyed) Dark Shadows and Charlie and the Chocolate Factory (which I rather did not), but even in his clunkers, you have to admit that his world-building is exquisite. So how does Corpse Bride fair amongst his other films?
Corpse Bride is actually a co-directorial venture between Burton and Mike Johnson, who is most well-known for the part he played in animating The Nightmare Before Christmas. It tells the story of Victor (Johnny Depp), a shy young groom who is due to be wedded to the well-off Victoria (Emily Watson). Unfortunately, things go haywire when Victor accidentally vows to marry a dead woman named Emily (Helena Bonham Carter), who then rises from the grave whilst under the false pretence that they will get married and live – or die – happily ever after.
Is this… maybe the best, most star-studded supporting voice cast of all time? Aside from Burton's usual players, this little animated movie stars the likes of Joanna Lumley, Jane Horrocks, Albert Finney, Christopher Lee and Richard E. Grant, which is an absolutely phenomenal list of actors in any context, never mind in a movie that is supposedly for children.
Look, I always find stop motion one of the most impressive things in the world. The time and patience and creativity it takes shows such dedication and it's absolutely fascinating to behold. Corpse Bride has some of the best I've seen though; the edges are so rounded, the fabric is incredibly realistically textured and the movement isn't clunky at all. I'm happy to report that it still holds up visually more than 15 years since it's release.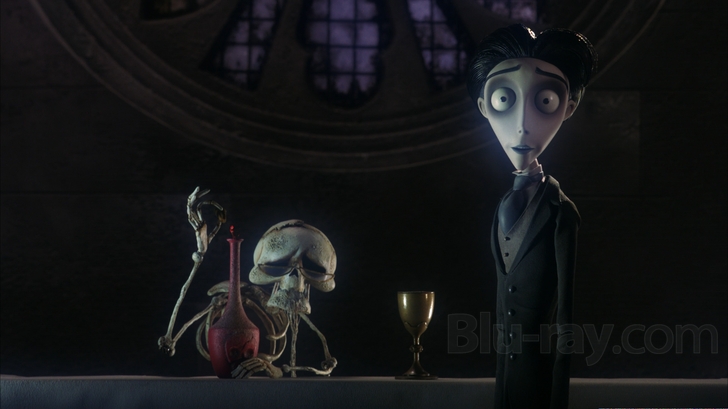 Aside from the clearly Burton-led visuals and a voice cast that never even needed to be this good, the best thing about this film is Danny Elfman's soundtrack. Both the classical, moody score and the musical numbers are brilliant. Jaunty jazz bar inspired "Remains of the Day" stands out the most amongst some very strong songs – I'll be very surprised if I don't YouTube that several times later on down the line. 
In fact, here you go:
You can thank me later.
Alas, the only thing I wasn't overly keen on was the story. Sure, there are some really original ideas here in terms of the gothic romance aspects, but it's all really quite simplistic when it comes down to it. Of course this length of movie is always welcome anyway, so it never gets boring purely because it has no time to.
On the whole, it's plain to see why Corpse Bride is so popular. Fun, quirky characters and a bouncing soundtrack are what really put the icing on the cake though.
Corpse Bride is currently available to BUY on Sky Store for 99p. Don't miss your chance!
TQR Category Ratings:
Performance: 

Cinematography: 

Soundtrack: 

Costume & Set Design: 

Plot: 

Overall Enjoyability Rating: