Is it just me, or is the praise for Cruella absolutely through the roof? Don't think critic reviews, don't think film buff reviews… think gay best friend and mother of four Carol down the road reviews. Those people seem to fucking love this movie and it was getting out of hand. I felt it was my civic duty to see Cruella to see what the fuss was all about.
We all know her. We all loved to hate her when we were six years old. Ms. DeVil needs no introduction. Literally, she needs no introduction – we already had a hefty dose of that in animated form way back in 1961. Not to mention that our queen Glenn Close brought her to life again in 1996 in one of the most criminally underrated performances in movie history. Think, then, of Cruella as sort of a prequel to all of it. The film takes us on a whistle stop tour of where the character came from, her tragic backstory, and how she came to be the Disney villain we all know and love. Or hate, depending on you as a person. You do you, y'know?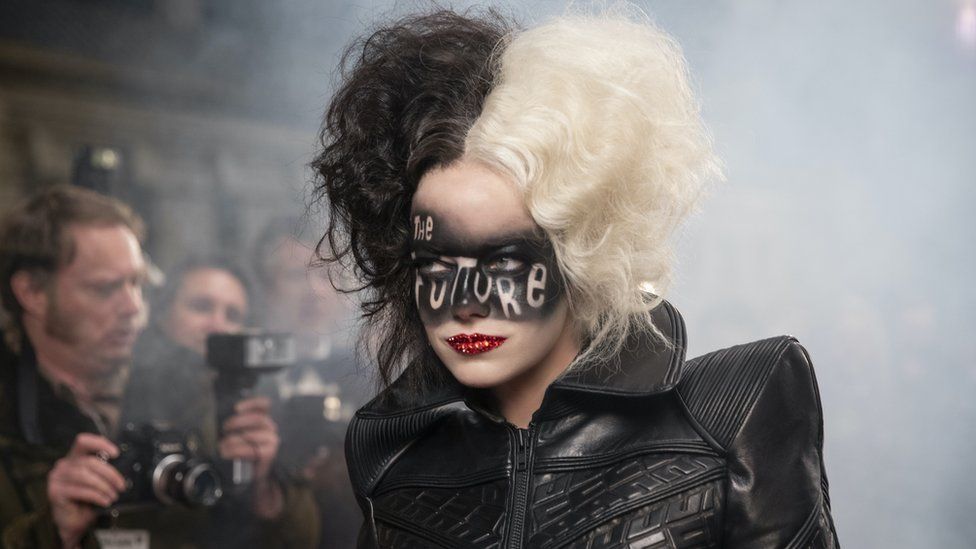 Once we get the background out of the way, we find Cruella (then known as Stella) working for a big name fashion house, run by a wicked baroness played by the inimitable Emma Thompson. Cruella (Emma Stone) takes it upon herself to come up with an evil plan to topple the baroness' reign over the fashion industry and show the world who the true talent is.
Yes, this is just another origin story. But who cares? This movie is a gay person's dream. In all seriousness, you remember that gay best friend I mentioned at the start of this review? Well, it could not be easier to see why it's doing so well with my people. It's so wildly fabulous, plus the two female leads are utterly fantastic.
Both Emmas are absolutely great here and both of them manage to make their characters realistic despite the innately caricature nature they both possess. Stone's English accent is mostly passable which is nice to see, and Thompson is top notch as the remarkably glamorous baroness. Their on-screen chemistry works beautifully also, so all in all, the casting choices here are spot on. 
If I had a penny every time someone compared this to The Devil Wears Prada, I'd have moved to Italy by now. Oddly enough, the only similarity I see is that both plots have loose ties to the fashion industry and there's a powerful woman at the helm of it all. In all honesty, it didn't bother me at all that these things were kind of similar because the costuming in this film is bloody exquisite. It's a shame Cruella will have been forgotten about by the time the Oscars roll around again, as they're definitely deserving of the most prestigious accolade available to a costume designer.
Stylistically, the punk rock vibe of it all is a feast for the eyes and it rightly deserves the praise it's getting. For me, the film's downfall comes only with the length of the screenplay and the under-utilisation of Mark Strong. If the editing had made the movie more succinct and concise, this would be a solid 4 star film.  
Visually and aesthetically, Cruella is a delight of almost perfection. Despite that, the plot is too long-winded to make most facets of the storyline memorable, but above all, the performances make it worth a watch regardless.
Just before I go, I need to give a shout out to Wink, a.k.a. the best movie dog in the country.
Cruella is available to stream with a premier access pass for £19.99 on Disney+ and is still screening in most UK cinemas.
TQR Category Ratings:
Performance: 

Cinematography: 

Soundtrack: 

Costume & Set Design: 

Plot: 

Overall Rating: 
½