Isn't it fascinating how we're all so invested in true crime documentaries? The way Netflix churns them out every month or so just shows you how obsessed we are with the dark, sinister, macabre things that go on, often behind closed doors.
Interestingly, this one dropped on the streaming service with very little warning, and a friend pointed me towards it after watching it himself. Memories of A Murderer: The Nilsen Tapes combines old footage with new interviews, and perhaps most chillingly, voice recordings of the killer himself are interwoven with the action on screen. It tells the story of Dennis Nilsen, who is known to have murdered at least 12 young men in London throughout the late-seventies and early-eighties.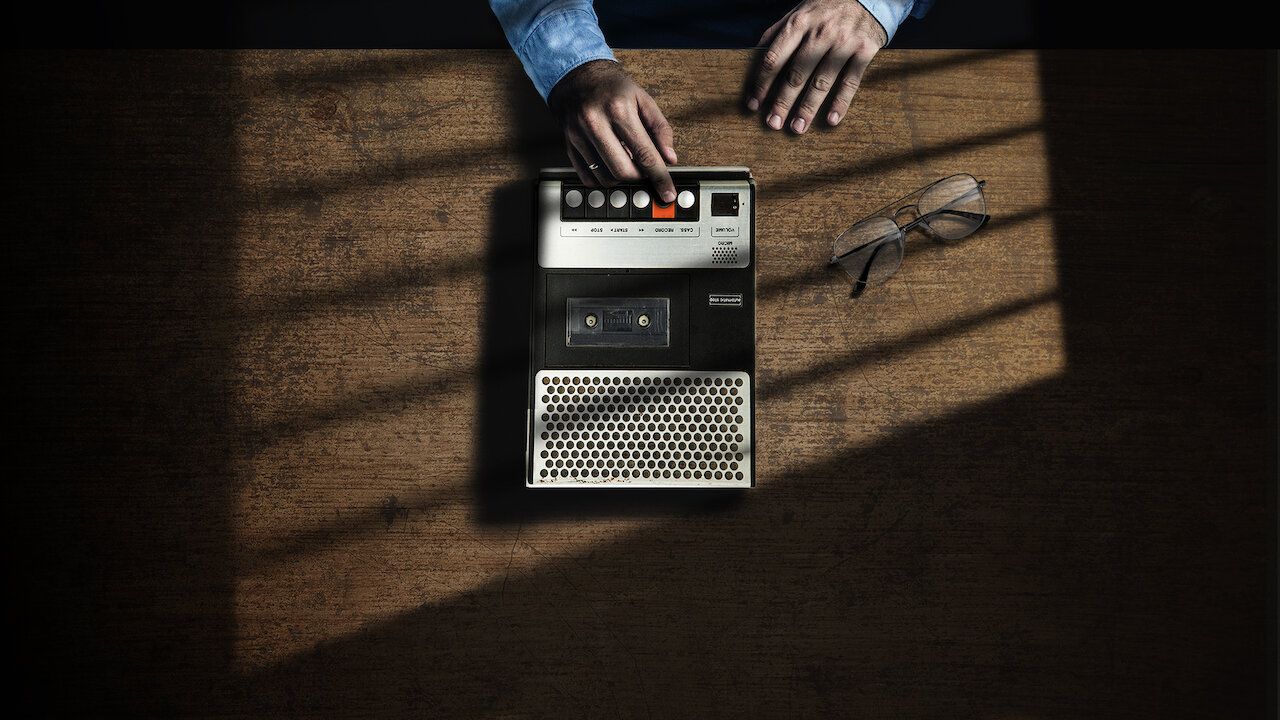 Finally. A Netflix true crime documentary in feature film format. Maybe they've learned that we don't need a story dragging out across six episodes? A marked improvement… There's even a plot twist not even half way through! Don't worry about waiting for a cliff hanger at the end of each episode and there being fairly little to interest you before that, because this does away with all that. Thank goodness.
I had no idea about any of the subject matter with this one; I'd never even heard of Dennis Nilsen despite being from the UK. What this documentary did well was to inform, educate and paint a solid, comprehensive picture in less than 90 minutes. That in itself is quite the achievement. 
As mentioned, the use of Nilsen's voice via the titular tapes and the click clack of his old-fashioned typewriter is absolutely chilling. The market is so over-saturated with documentaries like this one that it's easy to become de-sensitised to the horrors that they hold within them. There was, however, something so truly haunting about the monotone nature of the killer's voice that drew me in completely on this occasion. Whilst the format is mostly generic, such details make it stand out above the rest.
Another thing that this this film has above others that are similar is that it delves into the criminology and the psychology of what made this man into a monster. There are several twists and turns in the story too that I just did not see coming. I sat open-jawed on more than one occasion. Wild, especially seeing as it all unfolded in under an hour and a half.
The one thing I couldn't get on board with here is how it deals with the homosexual facet of Nilsen's life. There seemed to be quite the fascination around that fact, and that could be dangerous when viewed by the wrong audience. Though the people involved on-screen do their best to not equate being gay with being a murderer and a rapist, there seems to be something not quite convincing about the way they talk about him. In the wrong hands, that information could have some terrible ramifications further down the line.
Overall, there's nothing here in terms of filmmaking that's unfamiliar or new, but the spine-chilling narration combined with a purely horrifying and twisting story makes it worth the watch.
Memories of a Murderer: The Nilsen Tapes is available to stream on Netflix in the UK.
TQR Category Ratings:
Performance: n/a
Cinematography: 

Soundtrack: 

Costume & Set Design: n/a
Plot: 

Overall Enjoyability Rating: 
½